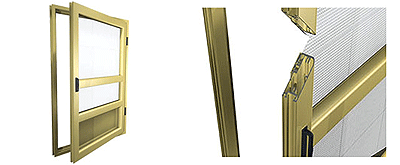 Mosquito nets allow you to protect your home and at the same time keep it airy all year round. They are the ideal solution for any space, main & holiday home, offices, hotels, restaurants, restaurants, etc.
The opening doors, single-leaf or double-leaf, of Belco Systems are made of reinforced aluminum profiles and they are ideal for front doors. They come in two variants:
1. Classic, American type, with automatic return spring, straight cuts, plastic connection angles and visible tires.
2. Nuova series, with automatic return spring, bevels cut 45 degrees, internal CAL connection angles and hidden tires.
Characteristics:
The mesh is made of «soft» fiberglass that does not decay and is so elastic that may be perfectly stretched on the sash of the door and provides an attractive effect.

Alternatively, an aluminum screen or a "pet-screen" made of extremely resistant fiberglass may be used, which enables to tolerate active pets.

Possibility to add panels at the lower part of the door or a larger crossbar in the middle facilitates their use even by children or elderly.

The adjustable hinges provide extremely easy installation, as well as removal for storing during the winter months.

Available in a variety of colors, upon request.

The classic wheat door is also available in a curved door.
Click on the photos to enlarge.