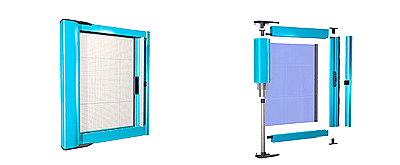 Mosquito nets allow you to protect your home and at the same time keep it airy all year round. They are the ideal solution for any space, main & holiday home, offices, hotels, restaurants, restaurants, etc.
Belco Systems' single-leaf horizontal screens are also ideal for doors. They are made by aluminum and stiff fiberglass mesh that does not decay or burnaluminum and stiff fiberglass mesh that does not decay or burn.
Horizontal insect screens are marked with CE certification indicating compliance with theessential requirements of the relevant European legislation.
Characteristics:
With high-resistant galvanized spring against humidity and saltiness.

The polyamideplastic parts are resistant to water, humidity, sun and heat.

Extra durability towind strains by using extra hard brush of mesh-lock brush according tocustomers wishes.

The "adjustablespeed controller" of the spring allows you to adjust the screen rolling upspeed.
The "wedge"stopper blocks the horizontal screen at any desirable intermediate point.
Easy and safeshutting with magnet or hook.
Available in 4 case models: 33, 38, 40 & 41 mm - max. width 1,5m.
Available in a variety of colors, upon request.
Click on the photos to enlarge.